Check out the new additions to the shop below.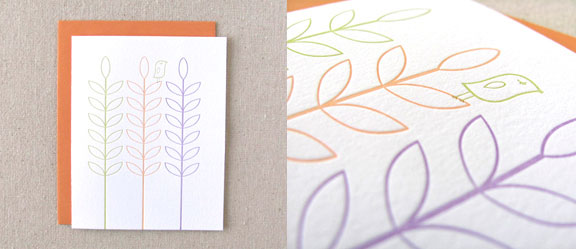 Bird on a Flower Mother's Day Card (inside reads "happy mother's day")
bright, modern, and colorful greetings for Mom

Little Chick Graduation Card (inside reads "congrats, graduate.")
congratulate your favorite student on their graduation day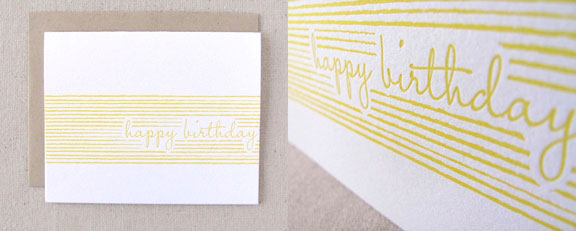 Modern Stripes Birthday Card (blank inside)
simple and chic for the stylish birthday pal in your life
Check them out in the shop here.
Great news! We have several new designs available in our shop. First up, our Chevron Easter Greeting Card…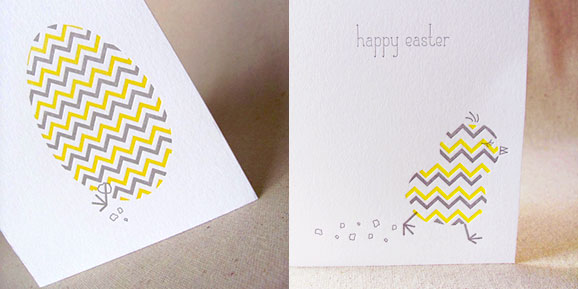 …we also have added the Spring/Easter Typography Coasters…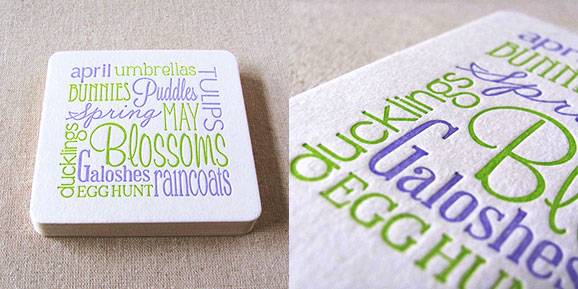 …and, we have some new note cards featuring vintage flower designs.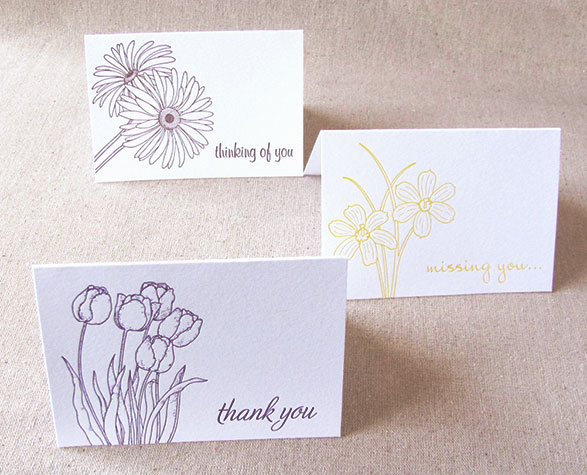 All of these designs are available here.
I finished up a few spring designs earlier this week and sent the files in for plating.  So, what does a letterpress printer do while waiting for plates and trying to avoid the other zillion things that should be done in the mean time? Why, they make custom straps for their husbands that have recently taken up purchased a guitar.
Ok, so I have no idea how to make a guitar strap, but I have a fabu sewing pattern for an all-purpose adjustable strap.  But, I must first find some owl-themed fabric because hubbie collects them – owls, not owl-themed fabric because that would be, you know, weird.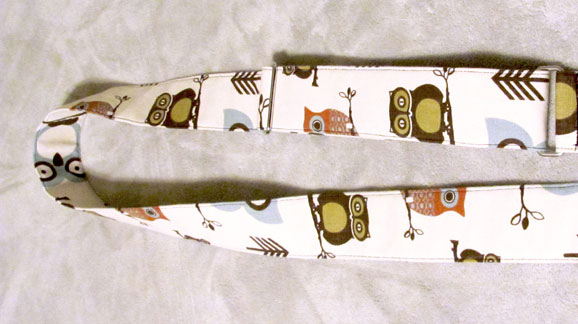 As I said, the strap is no problem.  It is the tab thingys that are baffling me.  But, I am a MacGyverite.  I have an old leather purse, plenty of sturdy cardstock, and a very sharp pair of mini scissors.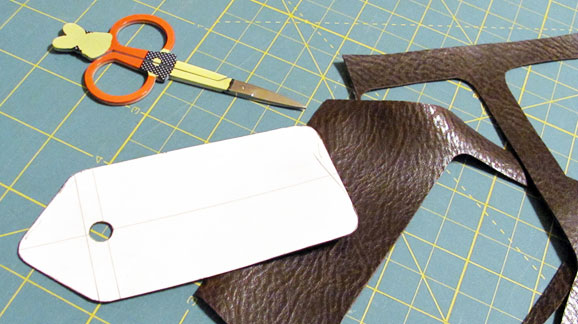 Several hours later, I have a template and some newly cannibalized leather purse parts.  Next, sew, sew, sew.  These tab thingys must not come apart so stitching is severely reinforced.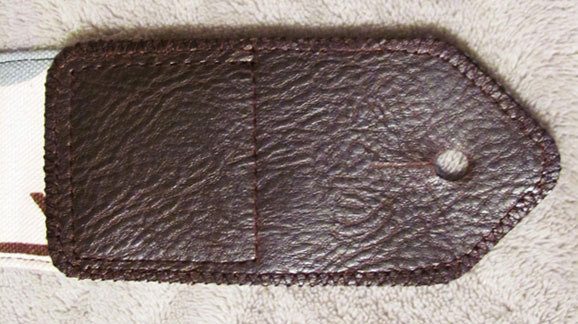 Finished!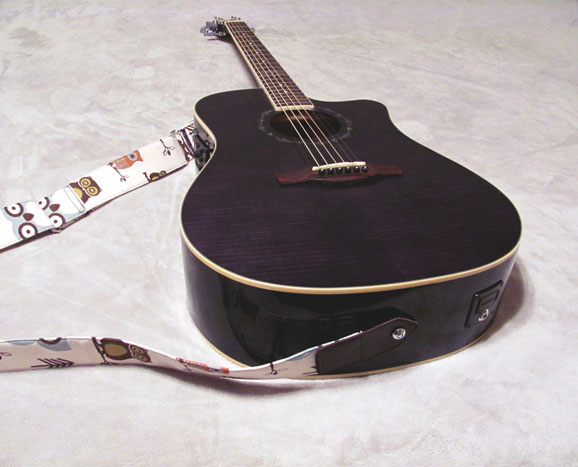 Owl-themed strap attached to a dusty guitar.  That needs to be tuned. And actually played. Or put up for sale on eBay.
Owning a letterpress shop means you have a desire to tinker with old machines…or have a friend/family member that does.  Fortunately for me, I have both.  The other thing owning a letterpress shop brings with it is a need for space.  Right now, our presses are in an enclosed, but non-heated space.  This causes problems on days like today when we are experiencing a thunder snowstorm that includes lightning.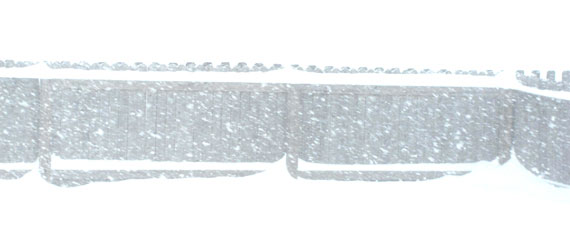 Being in a cold place does not hurt the press, but the cold can cause problems with the ink when printing.  Many parts of the press can be transported into the heated parts of the house temporarily until these items are put to use.  But, the ink disc on a platen press is bolted on, and it is heavy. This means moving it back and forth is possible, just not plausible.
So, this is where you draw upon your extensive knowledge of physics and/or MacGyver reruns.  Many old school press operators use candles mounted just behind the platen to continuously heat the disc.  I, however, have reservations about using an open flame anywhere near paper and chemicals.  It is a quirk of mine I guess.
If you touch the disc when the temperature is cold, it is cold – very cold – through and through.  It seems to hold cold very well.  Reasoning that the opposite is also true, I decided to place a hot water bottle on the disc to see if I could get a heat transfer between the disc and the water.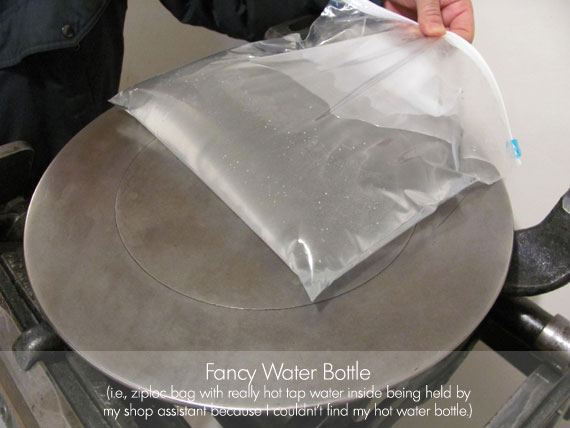 Voila!
The ink rolls on smooth and I have a relatively low risk of burning down the shop. *happy dance*
Now, whether or not I should be printing during a thunder snowstorm with lightning on a 100+ year old press that is electrified, well, may fortune favor the foolish.
We have two new designs in the shop.
First up, our twin pack of baby gift/note cards featuring a classic bow design in delicate newborn colors.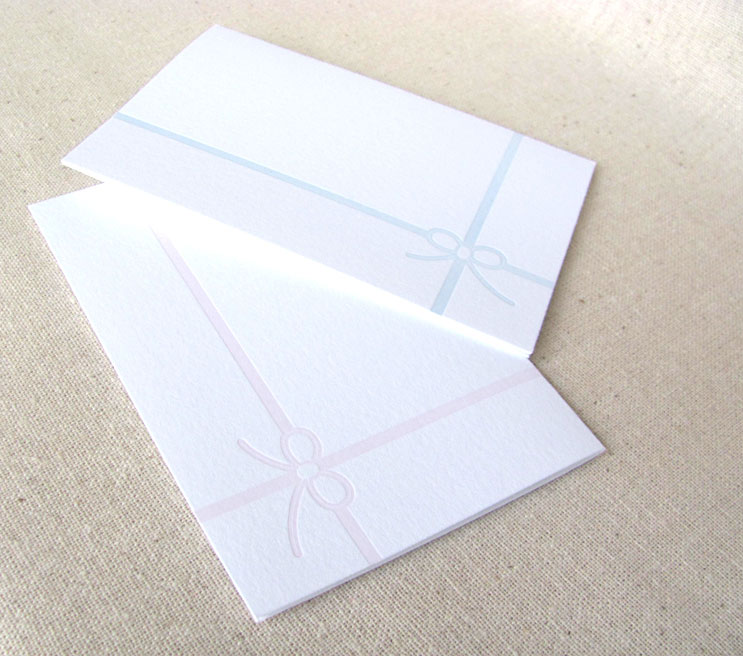 Perfect for personal thank you notes for a gift or a note of congratulations on a new birth.
We also have a bright and cheery get well note card featuring a sleek, modern ribbon design.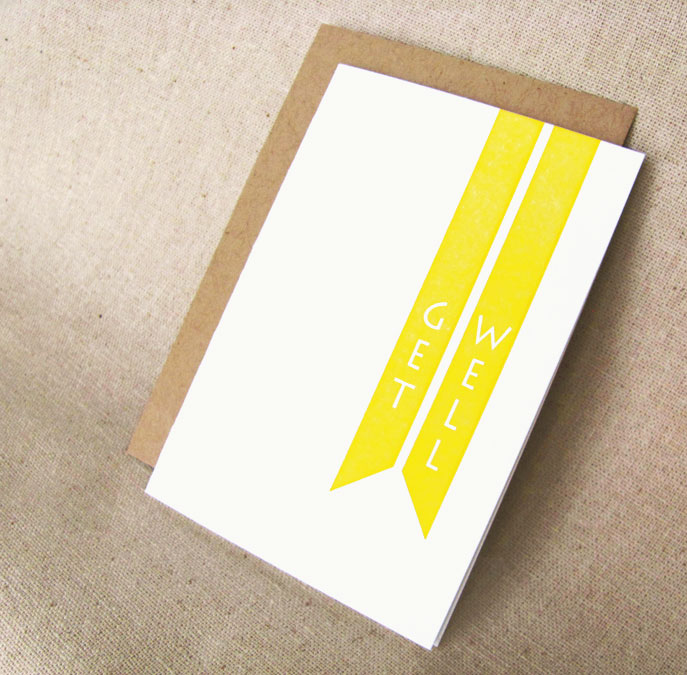 Short, sweet, to the point, and…bright.  All the things a get well card should be!
Buy them in our Etsy shop here.